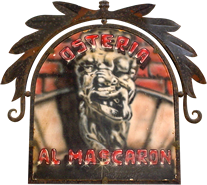 In 1978 Gigi Vianello got back to Venice after years living in Paris. So by that time he decided to take over the inn, the osteria. His intention was keeping further its traditional feature, but also apart from that, to add a touch of "Brasserie" to this already quaint inn.
The ambience inside the Mascaron got then richer due to that "Brochante" touch, which is typical french. The ancient venitian floorboard got completed with the wooden tables, the original sandblast display cabinets featuring Art Deco styles allow the observer to catch a glimpse of the numerous "recovered" pieces freely displayed on the walls and the shelves in the inn. Since 1980 Gigi and Momi, who have been friends for a long time, have chosen as their prerogative to propose a simple cooking, as they like it.
An unaffected setting welcomes you. It may happen that you have dinner together with some important artists, actors or painters, or with a quite normal tourist, all of them having one story to tell each others. You are able to find a mix of persons and dishes, quite like Venice itself, a mixture consisting in flavours and people.
Gigi & Momi will welcome you in their inn as always, with their special sympathy and liking.